Pradhan Mantri JI-VAN Yojana: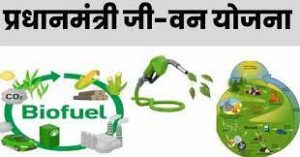 The Ministry of Petroleum & Natural Gas provided valuable insights into the Pradhan Mantri JI-VAN (Jaiv Indhan- Vatavaran Anukool fasal awashesh Nivaran) Yojana in a written reply in the Lok Sabha.
Pradhan Mantri JI-VAN Yojana was launched in March 2019.
It focuses on integrated bio-ethanol projects for Second Generation (2G) ethanol using lignocellulosic biomass and other renewable feedstocks.
Total financial allocation: Rs. 1969.50 crore (2018-19 to 2023-24).
Under this scheme the maximum financial assistance of Rs.150 crore per project for commercial projects and Rs.15 crore per project for demonstration projects has been prescribed for enhancing commercial viability, promoting R&D, and adoption of technologies in the field of production of 2G ethanol.
Key states benefiting: Punjab, Haryana, Odisha, Assam, Karnataka, Andhra Pradesh.
PM JI-VAN Yojana to Enhance Bio-ethanol: Imposition of additional excise duty on non-blended fuels, Ethanol Purchase Agreements (EPA), diversification of feedstock, separate price for 2G ethanol, reduced GST on ethanol for EBP Programme.