Supreme Court's Verdict On Demonetisation: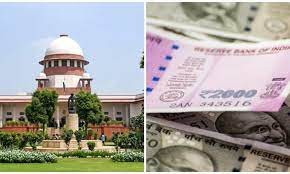 The Supreme Court has passed a verdict on the Demonetisation of currency notes of Rs 500 and Rs 1,000 in a majority 4-1 by a five-judge Constitution Bench.
Majority Ruling:
The majority held that Centre's notification dated November 8, 2016 is valid and satisfies the test of proportionality.
The RBI and the Centre had been in consultation with each other for six months prior to the November 8 notification issued under Section 26(2) of the RBI (Reserve Bank Of India) Act, 1934.
The statutory procedure under Section 26(2) of the RBI Act was not violated merely because the Centre had taken the initiative to "advice" the Central Board to consider recommending demonetisation.
The government was empowered under the provision to demonetise "all series" of banknotes.
On hasty decision, the court said such measures undisputedly are required to be taken with utmost confidentiality and speed.
If the news of such a measure is leaked out, it is difficult to imagine how disastrous the consequences would be.
Demonetisation was done for the "proper purposes" of eliminating fake currency, black money and terror financing.
Minority Ruling:
The government could have issued a notification under Section 26(2) of the RBI Act only if the RBI had initiated the proposal to demonetise by way of a recommendation.
Therefore, the government's notification issued under Section 26(2) of the RBI Act was unlawful.
In cases in which the government initiates demonetisation, it should take the opinion of the RBI. The opinion of the Board should be "independent and frank".
If the Board's opinion was in the negative, the Centre could still go forward with the demonetisation exercise, but only by promulgating an ordinance or by enacting a parliamentary legislation.
Describing the Parliament as the "nation in miniature", "without the Parliament, democracy will not thrive".
Demonetisation:
On 8th November 2016, the government announced that the largest denomination of Rs 500 and Rs 1000 were demonetised with immediate effect ceasing to be a legal tender.
It is the act of stripping a currency unit of its status as legal tender or fiat money.
It occurs whenever there is a change of national currency and the current form or forms of money is pulled from circulation and retired, often to be replaced with new notes or coins.