Turnersuchus hingleyae : Fossils Of The ancient Marine Crocodile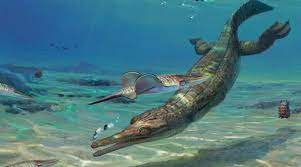 Palaeontologists have recently discovered fossils of the ancient 'marine crocodile Turnersuchus hingleyae.
Turnersuchus hingleyae:
The fossils uncovered on the Jurassic Coast in the United Kingdom include part of the head, backbone, and limbs of Turnersuchus hingleyae.
Its age dates back to the early Jurassic, Pliensbachian period, which was about 185 million years ago.
Due to their relatively long, slender snouts, they would likely have looked similar to the currently living Gharial crocodiles.
Pliensbachian period :It occurred between 190.8 million and 182.7 million years ago during the Early Jurassic Period.
The stage's name is derived from the village of Pliensbach, Germany.