S-400 And CAATSA: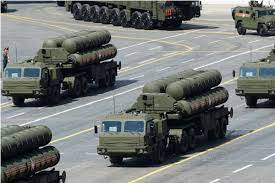 The U.S. State Department spokesperson has said that there will be no "blanket" waiver for India, indicating that even if S-400 Triumf anti-aircraft missile systems deal is not sanctioned, other "significant" military and nuclear transactions between India and Russia could still trigger sanctions under the Countering America's Adversaries Through Sanctions Act (CAATSA).
There has been unease in Washington ever since 2016 when India announced the deal with Russia, which remains New Delhi's biggest defence partner.
Now, the S-400 deal could attract sanctions under US' CAATSA law. The US has already sanctioned China and Turkey over similar purchases.
The S-400 Triumf is a mobile, surface-to-air missile system (SAM) designed by Russia.
It is the most dangerous operationally deployed modern long-range SAM (MLR SAM) in the world, considered much ahead of the US-developed Terminal High Altitude Area Defense system (THAAD).
Countering America's Adversaries through Sanctions Act (CAATSA)'s core objective is to counter Iran, Russia and North Korea through punitive measures.
Enacted in 2017.
Includes sanctions against countries that engage in significant transactions with Russia's defence and intelligence sectors.