The Sydney Dialogue: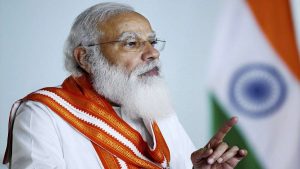 The Prime Minister delivered the keynote at the inaugural Sydney Dialogue via video conferencing.
He spoke on the theme of India's technology evolution and revolution.
Highlights of the Address:
The international order should ensure cryptocurrencies do not end up in the wrong hands.
Citing the unregulated nature of the crypto market, recently, the PM called for taking progressive and forward-looking steps.
India's space sector is open to private investment and the agriculture sector is reaping the benefits of the digital revolution.
In 2020, the government opened Indian National Space Promotion and Authorization Centre (IN-SPACe) to provide a level playing field for private companies to use Indian space infrastructure.
Highlighted the leaps in India's digital revolution that has redefined politics, economy and society.
However, the digital age is raising new questions on sovereignty, governance, ethics, law, rights and security.
Sydney Dialogue:
It is an initiative of the Australian Strategic Policy Institute.
It is an annual summit of cyber and critical technologies to discuss the fallout of the digital domain on the law and order situation in the world.