The United States Senate Has Passed a Gun Safety Bill: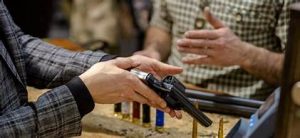 The United States Senate has passed a gun safety bill, the most significant action against rising gun violence in the country.
The bill was passed on June 23, hours after the US Supreme Court ruled that Americans have a constitutional right to carry firearms in public for their safety and self-defence.
The bill will now be sent to the Democrat-dominated House of Representatives, where it is likely to sail through, after which it will be sent to US President Joe Biden for his approval.
The bill has been called the Bipartisan Safer Communities Act.
The bipartisan bill focuses on firearms and improving medical care in the US.
The bill seeks to ensure strict background checks for gun buyers, especially minors. The bill will also release funds for educational institutions, to expand their mental health resources and make schools safer.
The bill was passed exactly a month after a mass shooting in Uvalde, Texas, where a gunman stormed an elementary school and killed 21 people, including 19 children.
The Uvalde incident came days after a racial shooting in a Buffalo supermarket in New York, where 10 black people were fatally shot.