Dibang Multipurpose Project: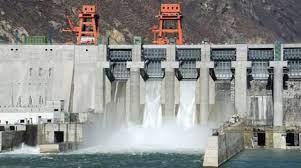 State-owned hydropower giant NHPC recently inked an initial pact with RITES to construct railway siding for a 2,880 MW Dibang multipurpose project in Arunachal Pradesh.
Dibang Multipurpose Project is a flood control and hydroelectric power project planned to be developed on the Dibang River, a tributary of the Brahmaputra River, in Arunachal Pradesh.
At 2,880 MW of installed capacity, it will be the country's biggest hydropower facility.
It is being developed by India's state-run National Hydroelectric Power Corporation (NHPC).
The project envisages the construction of a 278m-high and 375m-long concrete gravity dam, which will be the highest dam structure in the country.
The dam will create a 43 km-long reservoir with a gross storage capacity of 3.85 billion cubic metres.
It includes six horseshoe-shaped head race tunnels of length varying from 300m to 600m with 9m diameter, an underground Power House, and six horseshoe-shaped tail race tunnels of length varying from 320m to 470m with 9m diameter.