Trade Policy Forum: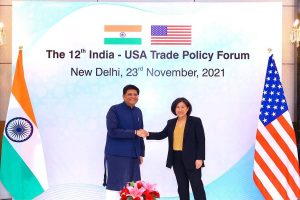 The United States and India committed to integrating their economies across sectors to harness the untapped potential of the bilateral relationship, at the Trade Policy Forum convened after a gap of four years on Tuesday.
Co-chaired by Commerce and Industry, Textiles, Consumer Affairs and Food & Public Distribution Minister Piyush Goyal and
U.S. Trade Representative, Ambassador Katherine Tai, the Forum resolved to take economic ties between the two countries to the 'next high level' and exchanged views on 'potential targeted tariff reductions'.
The two sides decided to activate working groups of the Trade Policy Forum (TPF) on agriculture, non-agriculture goods, services, investment, and intellectual property to meet frequently and address issues of mutual concern in a mutually beneficial manner.
The Forum has decided to forge an agreement to facilitate U.S. market access for mangoes, grapes, and pomegranates, pomegranate arils from India, and reciprocate with similar access in the Indian market to cherries, pork/pork products and alfalfa hay for animal feed from the United States.
Discussions will also be held on enhancing market access for products such as distillers' dried grains with solubles from the U.S. and resolving market access concerns for water buffalo meat and wild caught shrimp from India.
The Indian side has sought restoration of the GSP (Generalized System of Preferences) benefits by the U.S. and said this would help industries from both sides in integrating their supply chain efficiently. The United States noted it 'for suitable consideration'.
The Forum also agreed on the significance of negotiating a Social Security Totalization Agreement in the interest of workers from both sides, and pursuing further engagements for reaching such an agreement.