Model Tenancy Act: Assam First State To Adopt: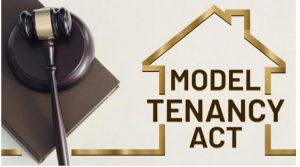 Assam has become the first state to adopt the Model Tenancy Act. With this Assam Urban Areas Rent Control Act, 1972 gets repealed.
New Act will spur growth & development of transparent & accountable rental market & balance the interests of tenants & landlords. It will provide ecosystem for rapid dispute resolution.
The Union Cabinet, in June 2021, approved the Model Tenancy Act (MTA).
States and Union territories can now adopt the Model Tenancy Act by enacting fresh legislation or they can amend their existing rental laws suitably.
Highlights of the Model Law:
Applicable prospectively and will not affect the existing tenancies.
Written agreement is a must for all new tenancies. The agreement will have to be submitted to the concerned district 'Rent Authority'.
The law also speaks about roles and responsibilities of landlord and tenants.
No landlord or property manager can withhold any essential supply to the premises occupied by the tenant.
If tenancy has not been renewed, the tenancy shall be deemed to be renewed on a month-to-month basis on the same terms and conditions as were in the expired tenancy agreement, for a maximum period of six months.
Compensation in case of non-vacancy: On the expiry of extended period of six months of agreed tenancy period or the termination of tenancy by order or notice, the tenant shall be a tenant in default and liable to pay compensation of double of the monthly rent for two months and four times of the monthly rent thereafter.
A landowner or property manager may enter a premise in accordance with written notice or notice through electronic medium served to the tenant at least twenty-four hours before the time of entry.
Significance:
It is an important piece of legislation that promises to ease the burden on civil courts, unlock rental properties stuck in legal disputes, and prevent future tangles by balancing the interests of tenants and landlords.