Tribute To Veer Kunwar Singh: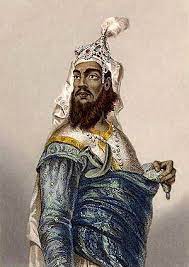 The Government will pay tribute to freedom fighter Veer Kunwar Singh (1777-1858) on his birth anniversary (23rd April).
He belonged to a family of the Ujjainiya clan of the Parmar Rajputs of Jagdispur, currently a part of Bhojpur district, Bihar.
He was the chief organiser of the fight against the British in Bihar.
He is popularly known as Veer Kunwar Singh.
Singh led the Indian Rebellion of 1857 in Bihar. He was nearly eighty and in failing health when he was called upon to take up arms.
He was assisted by both his brother, Babu Amar Singh and his commander-in-chief, Hare Krishna Singh. Some argue that the latter was the real reason behind Kunwar Singh's initial military success.
He gave a good fight and harried British forces for nearly a year and remained invincible until the end. He was an expert in the art of guerilla warfare.
He passed away on 26th April 1858.
To honour his contribution to India's freedom movement, the Republic of India issued a commemorative stamp on 23th April 1966.
The Government of Bihar established the Veer Kunwar Singh University, Arrah in 1992.
In 2017, the Veer Kunwar Singh Setu, also known as the Arrah–Chhapra Bridge, was inaugurated to connect north and south Bihar.
In 2018, to celebrate the 160th anniversary of Kunwar Singh's death, the government of Bihar relocated a statue of him to Hardinge Park.
The park was also officially renamed as 'Veer Kunwar Singh Azadi Park'.