Raja Chait Singh: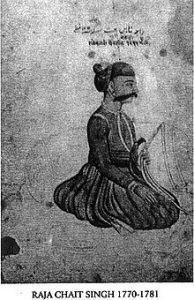 Cited by Modi in his Kashi speech.
By the late 18th century, Benaras had declared independence from the Nawab of Awadh.
In 1771, Maharaja Chait Singh succeeded to the throne of Banaras with the help of British authorities.
Two years later, the Maharaja transferred the domain to the East India Company under the control of Hastings.
When faced with the need for resources to fight the Mysore War against Hyder Ali, Hastings pressed Maharaja Chait Singh to make additional revenue payments and supply troops in 1778 and 1779.
When Singh failed to comply, Hastings marched to Benaras with his troops to confront the king.
Several of Hastings' men were killed in the conflict and, left with no other option, the governor-general was forced to retreat.
Popular narrative goes that he left hurriedly at night for the nearby Chunar Fort riding an elephant.
The incident is believed to have given rise to the popular saying in Banaras: "Ghode par haudah, hathi par jeen, Kashi se bhaga Warren Hastings".