Tanzania's First Woman President : Samia Suluhu Hassan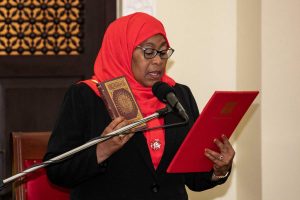 Samia Suluhu Hassan is a member of the Chama Cha Mapinduzi (CCM) party that is currently ruling the country. She is Tanzania's first female president.
She is the third woman head of government of a country in the East African Community.
The other two female heads of government are Agathe Uwilingiyimana in Rwanda and Sylvie Kinigi in Burundi.
On 19th March 2021 she took office after President John Magufuli's death on 17th March 2021.
In the year 2000, she decided to run for public office and was elected as a member of the Zanzibar House of Representatives and President Amani Karume appointed her as a minister.
At that time, she was the only high-ranking female minister and her male colleagues looked down upon her.
In 2005 she was re-elected and was re-appointed as a minister in another portfolio of the cabinet.
In the year 2010, she sought election to the National Assembly, won by over 80 per cent of the votes and was then appointed by President Jakaya Kikwete as the Minister of State for Union Affairs.
In the year 2014, she was elected as the constituent assembly's Vice-Chairperson and was tasked with drafting Tanzania's new constitution.
In 2015, for the 2015 election, John Magufuli, the presidential nominee of CCM chose her as his running mate thus making her the first female running mate in the history of the party.
On 5th November 2015, she became the country's first female vice-president after Magufuli's victory.
In 2020, they were both re-elected for a second five-year term.