UDAN Scheme: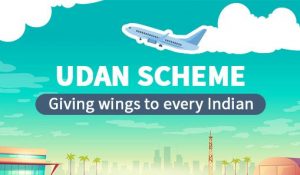 The government has announced new flights under the UDAN scheme to connect small cities with the metros.
The flights utilises less used airports in the country and seeks to offer affordable flights to the people of the country.
The Centre plans to operationalise 100 unserved and underserved airports and start at least 1,000 air routes under a regional connectivity scheme called UDAN scheme (Ude Desh Ka Aam Nagrik).
About UDAN Scheme:
The scheme is aimed at enhancing connectivity to remote and regional areas of the country and making air travel affordable.
It is a key component of Centre's National Civil Aviation Policy led by Prime Minister Narendra Modi and launched in June 2016.
Under the scheme, nearly half of the seats in Udan flights are offered at subsidised fares, and the participating carriers are provided a certain amount of viability gap funding (VGF) – an amount shared between the Centre and the concerned states.
The scheme will be jointly funded by the central government and state governments.
The scheme will run for 10 years and can be extended thereafter.
UDAN 4.0:
The 4th round of UDAN was launched in December 2019 with a special focus on North-Eastern Regions, Hilly States, and Islands.
The airports that had already been developed by Airports Authority of India (AAI) are given higher priority for the award of VGF (Viability Gap Funding) under the Scheme.
Under UDAN 4, the operation of helicopters and seaplanes is also been incorporated.