UN Report On Internet Shutdown: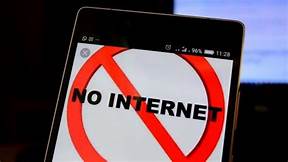 A report published by the Office of the United Nations High Commissioner for Human Rights (OHCHR) named Internet shutdowns: Trends, causes, legal implications and impacts on a range of human rights, stated that shutting down the internet affects people's safety & well-being, hampers information flow and harms the economy.
Internet shutdowns are measures taken by a government or by any entity on behalf of a government, to intentionally disrupt access to and the use of information and communications systems online.
Shutdowns often include complete blocks of Internet connectivity or accessibility of the affected services.
However, governments increasingly resort to throttling bandwidth or limiting mobile service to 2G, which, while nominally maintaining access, renders it extremely difficult to make meaningful use of the Internet.
Governments across the world have resorted to shutting down the internet citing a range of reasons.
Further makes it difficult to share and watch videos, live broadcasts, and other journalistic work, often ordered during civil society movements, security measures as well as electoral proceedings, and severely restricts human rights monitoring and reporting.
Global Scenario:
The first major internet shutdown that captured global attention took place in Egypt in 2011 and was accompanied by hundreds of arrests and killings.
The #KeepItOn coalition, which monitors internet shutdown episodes across the world, documented 931 shutdowns in 74 countries from 2016-2021.
As many as 12 countries implemented more than 10 shutdowns during that period. Globally, all regions have experienced multiple shutdowns, but the majority reported occurred in Asia and Africa.
As many as 132 of the shutdowns recorded by civil society groups were officially justified by the need to control the spread of hate speech, disinformation, or other forms of content deemed illegal or harmful.
Indian Scenario:
India blocked or disrupted internet connections 106 times and at least 85 of India's internet shutdown episodes were in Jammu & Kashmir.
Almost half of all shutdowns recorded by civil society groups from 2016-2021 were carried out in the context of protests and political crises, with 225 shutdowns recorded during public demonstrations relating to a vast range of social, political or economic grievances.