Delisting Taliban From Sanctions: UN: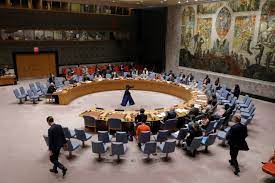 The United Nations (UN) officials claimed that there are no requests from the UN Security Council Permanent members for the delisting of the Taliban's top leadership from sanctions thus far.
They also refuted reports that the next meeting of the Taliban Sanctions Committee also known as the resolution 1988 committee, due in September 2021, would lift restrictions on designated terrorists like Sirajuddin Haqqani and Mullah Baradar.
Resolution 1988 Committee Meeting:
India's Permanent Representative to the UN (UNPR) is the Chairman of the committee until December 2021, and is key to deciding the date of the meetings, and scrutinising requests to delist the Taliban leaders.
The meeting is expected to happen ahead of an important meeting to discuss the renewal of the mandate of the UN Assistance Mission in Afghanistan (UNAMA), which expires in September 2021.
A decision is likely to be taken on whether to extend the special travel exemptions given to 14 Taliban members to participate in the "peace and reconciliation efforts".
The meeting could also discuss whether to include other Taliban leaders in the exemptions, giving them permission to travel and access some funds, which are frozen at the moment.