UN Peacekeepers: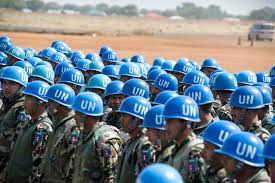 External Affairs Minister, S. Jaishankar has announced the rollout of a technological platform in partnership with the UN — 'UNITE Aware' — to help enhance the safety of UN peacekeepers. The platform has been used in four UN missions.
This was announced during the recent United Nations Security Council (UNSC) open debate on technology and peacekeeping.
The minister has also outlined a four-point framework for securing the peacekeepers:

Need for the deployment of proven, cost-effective and field-serviceable technologies that were environmentally friendly in their construction.
Peacekeepers needed sound information and intelligence.
Need for precise positioning and overhead visualisation.
Investment in capacity building and training of peacekeepers with regard to technology.
A Memorandum of Understanding has been announced between India and the UN in support of the "Partnership for Technology in Peacekeeping" initiative and the UN C4ISR Academy for Peace Operations (UNCAP).
UNITE AWARE:
UNITE AWARE is a mobile tech platform developed by India to provide terrain-related information to the UN peacekeepers so as to ensure their safety.
It is being developed in partnership with the UN Department of Peacekeeping Operations and the Department of Operational Support. India has spent 1.64 million USD for this project.
United Nations Peacekeeping is a joint effort between the Department of Peace Operations and the Department of Operational Support.
Every peacekeeping mission is authorized by the Security Council.
UN peacekeepers (often referred to as Blue Berets or Blue Helmets because of their light blue berets or helmets) can include soldiers, police officers, and civilian personnel.
Peacekeeping forces are contributed by member states on a voluntary basis.
Civilian staff of peace operations are international civil servants, recruited and deployed by the UN Secretariat.