UNSC Meet On Maritime Security: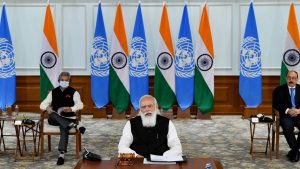 The United Nations Security Council (UNSC) has adopted the first-ever presidential statement on maritime security.
India, as the UNSC president for August 2021, noted the threats to maritime safety and security and called upon the members to consider implementing the 2000 UN Convention against Transnational Organized Crime.
All the permanent members of UNSC (US, China, Russia, UK and France) attended the Meet.
Statement on Maritime Security:
Emphasized on safeguarding the legitimate uses of the oceans and security of coastal communities, affirming that international law — reflected in the 1982 United Nations Convention on the Law of the Sea, among other global instruments — provides the legal framework for combating these illicit activities.
Called on Member States to implement the International Ship and Port Facility Security Code and Chapter XI-2 of the International Convention for the Safety of Life at Sea, and to work with the International Maritime Organization (IMO) to promote safe and secure shipping while ensuring freedom of navigation.
Member States, by other terms, should also consider ratifying, acceding to and implementing the 2000 United Nations Convention against Transnational Organized Crime and the Protocols thereto.
India's Stand:
India has put forth five basic basic principles for maritime security.
Free maritime trade sans barriers so as to establish legitimate trade.
In this context, SAGAR ('Security and Growth for all in the Region') vision can be highlighted.
Settlement of maritime disputes should be peaceful and on the basis of international law only.
It was with this understanding, and maturity, that India resolved its maritime boundary with its neighbour Bangladesh.
Responsible maritime connectivity should be encouraged.
Making reference to China's Belt and Road Initiative, India held that, while creating structures for "maritime connectivity", countries should keep "financial sustainability" and absorption capacity of the host countries.
Need to collectively combat maritime threats posed by non-state actors and natural calamities.
Highlighting India's role in the Indian Ocean has been that of a net security provider.
Preserve the maritime environment and maritime resources.
Highlighting increasing pollution from plastic waste and oil spills