Shaheen-III Missile: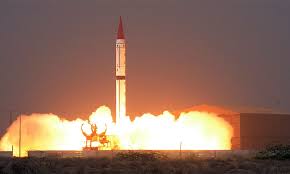 Pakistan has successfully test-fired the Shaheen-III missile.
Shaheen-III Missile of Pakistan:
It is a nuclear-capable surface-to-surface ballistic missile that can strike targets up to 2,750 km.
The launch of the missile was aimed at the revalidating various design and technical parameters of the weapon system.
Other Recent Developments:
China had recently asked India to "objectively" view the Eagle-IX (or Shaheen-IX) military exercise taking place between the Chinese and Pakistani air forces, amid increasing tensions with India.
Some of India's Ballistic Missiles:
Shaurya missile,
Prithvi missile,
Agni missile,
Dhanush, etc.