Urban Learning Internship Program (TULIP):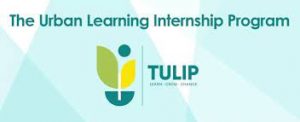 The Minister for Housing & Urban Affairs (MoHUA) recently said more than 5,000 internships have been offered under the TULIP.
The Urban Learning Internship Program (TULIP):
TULIP is a programme for providing internship opportunities to fresh graduates in all Urban Local Bodies (ULBs) and Smart Cities across the country.
The Ministry of Housing & Urban Affairs (MoHUA) in collaboration with the Ministry of Education (MoE) and All India Council of Technical Education (AICTE) has developed this programme.
At the State level, TULIP will be supported by the Urban Development departments in providing a clear roadmap for the ULBs/smart cities to adopt TULIP in their respective organisations.
Duration: Internship durations can range from eight weeks to one year.
TULIP Enhanced employability through "learning by doing" and opportunity to co-create innovation for cities.
TULIP interns would get exposure in a large number of areas including but not limited to urban planning, urban design, different branches of engineering, information and technology, mobility, finance, social sector issues and environmental issues.
Strengthen institutional capacity of the urban ecosystem and youth engagement towards urban initiatives, creating an ecosystem wherein youth can contribute towards building a liveable city.
Skilled, high-quality workforce and innovative citizen-centric solutions that help them address critical challenges.