Urban Sustainability Assessment Framework: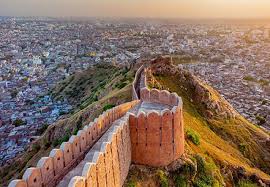 Posing a challenge for urban planners, UN-Habitat has identified multi-hazard vulnerabilities, urban sprawl, weak urban mobility and "green-blue disconnect" as the pressing issues for Jaipur city.
The global body has based its findings on a sustainable cities integrated approach pilot project, as part of which the "sustainable urban planning and management" component was implemented in collaboration with the Jaipur Development Authority and Jaipur Greater Municipal Corporation.
Jaipur has received an overall sustainability rating of three on the Urban Sustainability Assessment Framework (USAF) on the basis of data collected for 87 of its 131 parameters.
Experts have identified urban sectors where the city needs to pay maximum attention, and made recommendations to increase its green cover, strengthen urban biodiversity, and enhance the quality of life for citizens.
The project has received funding from the Global Environment Facility (GEF-6) to estimate the carbon sequestration potential of Indian cities.
Mitigating urban sprawl remains a major challenge in the State capital, with the UN body emphasising the concept of a compact city with re-development and re-densification of the existing urban areas.
As an indirect measure to curb development on the city's outskirts, linking the distance from the main city to the development charges imposed on citizens could be considered.