Uttarakhand Glacier Burst: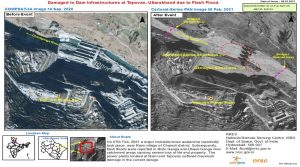 The Indian Space Research Organisation (ISRO) has released the first images of the glacier burst that happened in the Chamoli district of Uttarakhand. The glacial burst has so far caused 32 lives. After the incident, more than a hundred people are still missing.
The satellite images show that flash floods were reported in Rishi Ganga and Dhauli Ganga river catchment areas.
The flash floods were caused due by a major snow avalanche closer to the Raini village of Chamoli district.
The images show that power plants located at Raini and Tapovan have gone through the maximum damage in the glacial burst.
One image shows the deposition of debris in Dhauli Ganga.
Another image shows the damage that occurred to the dam infrastructures at Tapovan and Raini.
These images were captured by the ISRO's advanced earth imaging and mapping satellite CARTOSAT-3.
Glacial burst:
Scientists are still investigating the reason for the glacial burst or the avalanche or the release of the accumulated water. Bu the experts are pointing that climate change can be blamed.
This is so because the warming temperatures are resulting in the shrinking of glaciers across the world.