Major Ports Authorities Bill – 2020: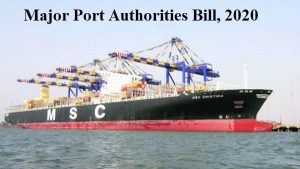 The "Major Ports Authorities Bill, 2020" was passed in the Rajya Sabha on February 10, 2020. The bill was passed using the ballot votes.
Significance of the Bill:
The Union minister of state for ports, shipping, and waterways, Mansukh Mandaviya, highlighted that the bill will encourage good competition within the major private ports.
The bill also boosts port land usage and it will amplify competition in port tariffs.
Provisions of the bill:
The bill aims to provide more autonomy in decision-making.
It will provide autonomy to the 12 major ports of India, Namely'
The bill will also professionalize the governance of the port with the formation of boards.
The bill will replace the Major Port Trusts Act, 1963.
It comprises of the provisions of creating a Board of Major Port Authority for each major port that in turn will replace the existing Port Trusts.