Formation And Promotion Of 10,000 Farmer Produce Organizations (FPOs):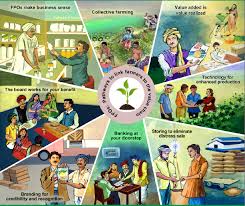 The Government of India has launched a new Central Sector Scheme called the "Formation and Promotion of 10,000 Farmer Produce Organizations (FPOs)".
Highlights:
The scheme has been launched with a clear strategy and committed resources in order to form and promote 10,000 new FPOs across India.
For the making of FPOs, Rs 6865 crore have been allocated.
The scheme has been launched because the agriculture sector plays a crucial role in economic development and Nation building.
The country is also at the forefront in the development of agriculture across the world.
Further, India wants to double its agricultural export by 2022.
But, more than 86% of farmers in India are small and marginal. They need the facilities of improved technology, better input, credit, and more markets in order to incentivize them. It would help them to produce a better quality commodity.
Thus, if these small, marginal, and landless farmers are aggregated into FPOs, it would help them to enhance the economic strength & market linkages of farmers. This in turn will help in enhancing their income.
About FPOs Scheme:
This is a Central Sector Scheme that receives funding from the Government of India.
FPOs will be developed in production clusters.
In the FPOs, agricultural and horticultural produces will be grown and cultivated to leverage the economies of scale.
It will also improve the market access for members.
Further, the "One District One Product" cluster will be created to promote specialization.
Under this scheme, the formation & Promotion of FPOs will be done with the help of Implementing Agencies (IAs).