Magh Bihu: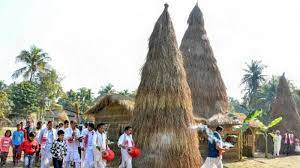 Prime Minister greeted the people on the occasion of Magh Bihu.
Magh Bihu is a harvest festival of Assam where people express gratitude for a good harvest and marks the end of the harvest season.
It believes in sharing the gifts of nature as a community and strengthening a sense of identity and belonging.
The festival of Bihu has three forms: Bohag Bihu, Kati Bihu, and Magh Bihu. Each of these falls in the agriculture calendar.
This day is considered auspicious in the Hindu lunar year as well and is known as the Makar Sankranti, i.e., the day when the sun begins its northward journey or Uttarayan and transitions into the Hindu zodiac sign of Makara.
On this day the Sun God is worshipped in various parts of India in the form of different festivals such as Pongal (Tamil Nadu), Maghi (Punjab), and Uttarayan (Gujarat).