Mahila Samman Savings Certificate (MSSC):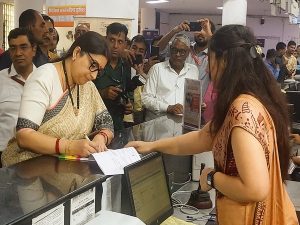 The Union Minister for Women and Child Development and Minority Affairs opened a Mahila Samman Savings Certificate (MSSC) account recently.
Mahila Samman Savings Certificate Scheme was announced in the 2023-24 Union Budget to commemorate 'Azadi Ka Amrit Mahotsav'.
It is a one-time savings scheme for women.
Objective is to empower women by increasing their participation in investments.
It is a significant step towards financial inclusion and empowerment of women including girls.
The two-year tenure scheme offers an attractive interest rate of 7.5 per cent compounded quarterly
It will have flexible investment and partial withdrawal options with a maximum ceiling of Rs two lakh.
The scheme is valid for a two-year period up to 31st March 2025.
The scheme has been made available in all 1.59 lakh post offices from April 01, 2023.
One can start investing in this scheme with a minimum amount of Rs. 1,000 or any other amount in multiples of Rs. 100.
Under this scheme, one can open multiple accounts, but the maximum total investment should be Rs 2 lakh only.
And each account opened should have a three-month gap between the opening date of the existing account and the new account.
The scheme is exclusively available to women.
Any woman above 18 years of age can invest in this scheme by herself.
In the case of minors, the guardian can open the account on behalf of the girl.