Vidabha Tiger Corridors: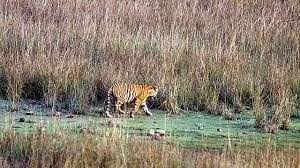 In a first-of-its-kind project, radio telemetry has been deployed to identify corridors used by tigers in the Vidarbha landscape, tracking their actual movement.
The study indicates that the animals are moving in a much wider swathe of area outside the protected areas than previously known.
The investigators belonged the Maharashtra Forest Department and Wildlife Institute of India (WII),
Vidarbha has 331 tigers in a forest area of around 26,775 sq km, dissected by 84,202 km of roads, apart from irrigation canals and other projects. There have been growing instances of man-tiger conflict in the region.
The project, carried out between 2017 and 2020 using radio signals, identified 37,067 sq km, in all, of tiger corridors.
They tracked the epic journey of Walker (as the tiger was dubbed) over 3,000 km from Tipeshwar Sanctuary in Yavatmal district to Dnyanganga Sanctuary in Buldhana district.