Indian Council Of Agricultural Research (ICAR):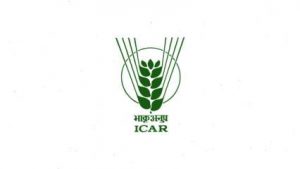 Researchers from various institutes under the Indian Council of Agricultural Research (ICAR) and Bidhan Chandra Krishi Viswavidyalaya found depleting trends in grain density of zinc and iron in rice and wheat cultivated in India.
The researchers collected seeds of rice (16 varieties) and wheat (18 varieties) from the gene bank maintained at the ICAR's Cultivar repositories.
Indian Council of Agricultural Research
It is an autonomous organisation under the Department of Agricultural Research and Education (DARE), Ministry of Agriculture and Farmers Welfare.
It is the apex body for coordinating, guiding and managing research and education in agriculture including horticulture, fisheries and animal sciences in the entire country.
It was established on 16th July 1929 as a registered society under the Societies Registration Act, 1860.
It is headquartered at New Delhi. With 102 ICAR institutes and 71 agricultural universities spread across the country this is one of the largest national agricultural systems in the world.
Cultivar repositories are nodal institutes that preserve and archive the old cultivars or varieties from our country.
Zinc and iron concentrations in grains of rice cultivars released within the 1960s were 27.1 mg/kg and 59.8 mg/kg. This depleted to 20.6 mg/kg and 43.1 mg/kg, respectively within the 2000s.
Concentrations in Wheat: The concentrations of zinc and iron were 33.3 mg/kg and 57.6 mg/kg in cultivars of the 1960s, dropped to 23.5 mg/kg and 46.4 mg/kg, respectively in cultivars released during the 2010s.
Biofortification is the process by which the nutritional quality of food crops is improved through agronomic practices, conventional plant breeding, or modern biotechnology.
Recently, the Prime Minister dedicated 17 biofortified varieties of 8 crops to the nation.
Some examples:

Rice- CR DHAN 315 has excess zinc.
Wheat- HI 1633 rich in protein, iron and zinc.
Maize- Hybrid varieties 1, 2 and 3 are enriched with lysine and tryptophan.
Madhuban Gajar, a biofortified carrot variety, is benefitting more than 150 local farmers in Junagadh, Gujarat. It has higher β-carotene and iron content.
ICAR has started Nutri-Sensitive Agricultural Resources and Innovations (NARI) programme for promoting family farming linking agriculture to nutrition, nutri-smart villages for enhancing nutritional security and location specific nutrition garden models are being developed to ensure access to locally available, healthy and diversified diet with adequate macro and micronutrients.
The production of bio-fortified crop varieties will be upscaled and linked with government programmes of mid-day meal, Anganwadi etc. to reduce malnutrition.