Viktor Orban: Hungary's New Prime Minister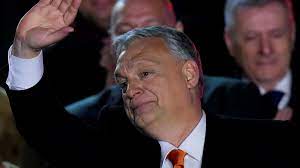 Viktor Orban has again been elected as the Prime Minister of Hungary for the fourth time. He won the 4th term by a huge margin more than what was predicted in the pre-election polls.
After the win, he addressed a jubilant crowd who were chanting his name.
Many people in the gathering wore the orange party colour of Fidesz, the party of Viktor Orban.
He is the longest-serving head of a government in the European Union.
Six oppositions united to challenge him in this election and they were seeking to roll back the illiberal policies of Orban's.
The opposition claimed that the vote was unfair as they were all banished from the state media.
Orban however said that the elections were conducted in a fair manner.
Over 200 international observers monitored the Hungary elections along with thousands of volunteers from both electoral camps.
69 percent was the turnout for this year's election.