Naftali Bennett:Prime Minister of Israel.: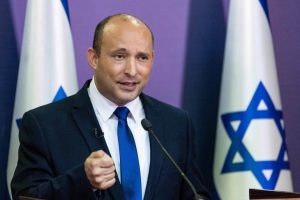 Naftali Bennett was sworn-in as the new Prime Minister of Israel.
The former defense minister and high-tech millionaire, Bennett, a 49-year-old leader of the right-wing Yamina party, took oath of office after the Israeli parliament Knesset elected him as the 13th Prime Minister by a 60-59 vote in the 120-member house.
An eight-party alliance, ranging from the right-wing Jewish Nationalist Yamina party to Arab lawmakers, was formed early this month by centrist politician Yair Lapid centrist and ultra-nationalist Bennett.
Mr. Bennett will be prime minister until September 2023 as part of a power-sharing deal. He will then hand power over to Yair Lapid for a further two years.
His victory ended the 12-year power of former prime minister Benjamin Netanyahu, the country's longest-serving leader.