Wayanad Wildlife Sanctuary : Female Leopard Died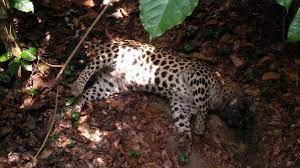 A female leopard died in a suspected road kill in the Wayanad Wildlife Sanctuary (WWS).
Wayanad Wildlife sanctuary is located in Kerala and is an integral part of the Nilgiri Biosphere Reserve.
This Sanctuary is contiguous to the tiger reserves of Nagarhole and Bandipur of Karnataka and Madhumalai of Tamil Nadu.
Kabini river which is a tributary of the Kaveri River flows through the sanctuary.
Flora: It includes moist deciduous forests, West coast semi-evergreen forests and plantations of teak, eucalyptus and Grewelia.
Fauna: Elephant, Gaur, Tiger, Panther, Sambar, Spotted deer, Barking deer, Wild boar, Sloth bear, Nilgiri langur etc.