Vimarsh-2023 : Hackathon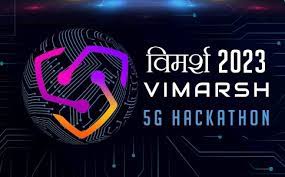 A national hackathon named "Vimarsh-2023" has been unveiled with the goal of identifying innovative tools to ensure the secure utilization of 5G technology by law enforcement agencies during sensitive operations.
The Bureau of Police Research and Development (BPRD) and the Indian Cyber Crime Coordination Centre (I4C) initiated the hackathon, which is a significant step towards enhancing the capabilities of police forces.
The primary objective of the hackathon is to develop innovative tools that address the challenges and issues confronted by law enforcement agencies (LEAs) in adapting to and utilizing 5G technology effectively.
The hackathon will involve three stages of idea screening.

Stages I and II will be conducted in a virtual mode.
While Stage III will take place at designated nodal centers in a physical setting, where 5G testbeds, private networks, and labs will be accessible.