TROPEX 2023: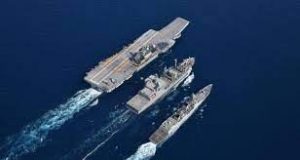 Indian Navy's major Operational level exercise TROPEX for the year 2023, conducted across the expanse of IOR for four months from Nov 22 – Mar 23, culminated this week in the Arabian Sea
Theatre Level Operational Readiness Exercise (TROPEX 2023):Nov 2022 to March 2023.
This operational level exercise is conducted biennially and witnesses participation not only by all Indian Navy units but also of Indian Army, Indian Air Force and Coast Guard assets.
It witnessed the participation of approximately 70 Indian Navy ships, six submarines and over 75 aircraft.
As part of the exercise, all surface combatants of the Indian Navy including Destroyers, Frigates, and Corvettes as well as submarines and aircraft are put through complex maritime operational deployments.
The overall exercise construct included the Coastal Defence exercise Sea Vigil and the Amphibious Exercise AMPHEX.