Vizhinjam Port Project: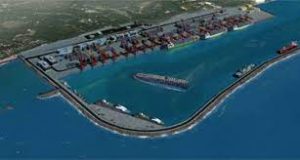 Adani Group approached the Kerala High Court requesting the security cover of central forces in its port construction site in Vizhinjam which was marred by violent protests by the Fishermen.
Vizhinjam Port Project is a Rs 7,525 crore port, being built under a Public Private Partnership (PPP) model with Adani Ports Private Limited at Vizhinjam near Thiruvananthapuram, Kerala.
It was laid in December 2015 and has since missed its completion deadline.
The port is to have 30 berths, and will be able to handle giant "megamax" container ships.
It is believed that the ultramodern port, located close to major international shipping routes, will boost India's economy and its location is also of strategic importance.
The port is expected to compete with Colombo, Singapore, and Dubai for a share of trans-shipment traffic.
The port's advantages are "availability of a 20m contour within one nautical mile from the coast, minimal littoral drift along the coast, hardly any maintenance dredging required, links to national/regional road, rail network, and proximity to international shipping routes.