Technotex 2023: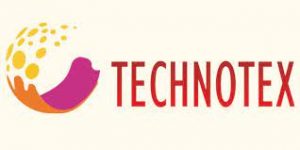 India's premier show on Technical Textiles – 'Technotex 2023' will be held in Mumbai from 22nd to 24th February 2023.
The event is being organized by the Ministry of Textiles in collaboration with Federation of Indian Chambers of Commerce Industry, under National Technical Textiles Mission (NTTM).
Technotex 2023 offers a good opportunity for Startup Entrepreneurs who represent the fastest-growing category worldwide.
The Government is making all efforts to promote Technical Textiles and has undertaken various initiatives in this direction, such as creation of PLI scheme, HSN Codes, National Technical Textiles Mission.
Technical textiles are defined as textile materials and products used primarily for their technical performance and functional properties rather than their aesthetic or decorative characteristics.
As a component or part of another product, they are used to enhance the strength, performance or other functional properties of that product.
These products are broadly classified into 12 different categories- Agrotech, Oekotech, Buildtech, Meditech, Geotech, Clothtech, Mobiltech, Hometech, Sportstech,Indutech, Protech, Packtech.
Technical textile accounts for approximately 13% of India's total textile and apparel market and contributes to India's GDP at 0.7%.