Super Typhoon Hinnamnor: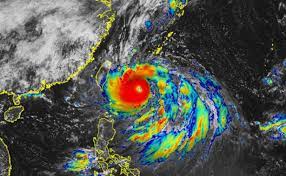 The strongest tropical storm of 2022, dubbed Super Typhoon 'Hinnamnor', has been barrelling across the western Pacific Ocean and is presently hurtling back towards the islands of Japan and South Korea, packing wind speeds of upto 241 kilometres per hour.
As of September 1, 2022, the category 5 typhoon — the highest classification on the scale — was about 230 km away from Japan's Okinawa prefecture.
one of the factors contributing to the Super Typhoon rapidly intensifying and expanding is the fact that it has started absorbing other local meteorological systems.
Warm tropical waters and other pre-existing meteorological disturbances have also led to the system's escalation.