Wangala Dance : Meghalaya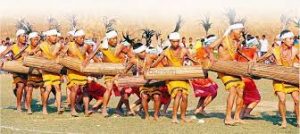 Members of the Garo tribal community recently performed Wangala dance on the occasion of 'The Rising Sun Water Fest-2022' on the banks of Umiam Lake in Meghalaya.
The Wangala Festival, also known as the 100 drum festival is celebrated with much zeal and enthusiasm in India's north-eastern state of Meghalaya.
Celebrated since 1976, it's the most important festival of the Garo tribe and attracts a lot of tourists.
During the Wangala, tribals offer sacrifices to please their deity Saljong, the Sun God.
It marks the end of the long harvest season.
The celebration also signifies the end of a long toil period in the field for the Garo tribe before the start of the winters.
The first day of the festival is celebrated with a ceremony called Ragula which is performed in the house of the village's chief.