Breach of Privilege: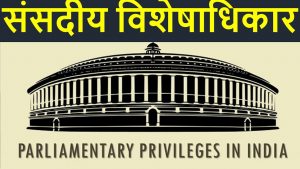 BJP MP P.P. Chaudhary has issued a breach of privilege notice against Trinamool Congress MP Mahua Moitra in the Lok Sabha for her remarks against a former Chief Justice of India.
While speaking on the Motion of Thanks on the President's address, she has cast some aspersions with respect to the conduct of a judge. So the question is whether the conduct of a judge can be discussed on the floor of the House or not.
Parliamentary privilege refers to the right and immunity enjoyed by legislatures, in which legislators are granted protection against civil or criminal liability for actions done or statements made in the course of their legislative duties.
The powers, privileges and immunities of either House of the Indian Parliament and of its Members and committees are laid down in Article 105 of the Constitution.
Similarly, Article 194 deals with the powers, privileges and immunities of the State Legislatures, their Members and their committees.
Generally, any act that obstructs or impedes either House of the state legislature in performing its functions, or which obstructs or impedes any Member or officer of such House in the discharge of his duty, or has a tendency, directly or indirectly, to produce such results is treated as a breach of privilege.
It is also a breach of privilege and contempt of the House to make speeches or to print or publish libel reflecting on the character or proceedings of the House or its Committees or on any member of the House for or relating to his character or conduct as a legislator.