Kongu Nadu: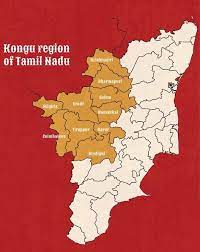 A list of new Union Cabinet ministers issued by the BJP has triggered a debate in political circles in Tamil Nadu, as well as on social media, by referring to 'Kongu Nadu', the informal name for a region in the western part of the state.
The list mentions new minister L Murugan as hailing from 'Kongu Nadu'.
This has led to allegations that the BJP of trying to bifurcate the state, with the ruling DMK-Congress alliance saying the "agenda" will not succeed.
It has also been considered an AIADMK stronghold in the recent past, and is also where the BJP's limited influence in the state is concentrated.
Kongu Nadu' is neither a place with a PIN code nor a name given formally to any region. It is a commonly used name for part of western Tamil Nadu.
In Tamil literature, it was referred to as one of the five regions of ancient Tamil Nadu. There were mentions of 'Kongu Nadu' in Sangam literature as a separate territory.
In the present state of Tamil Nadu, the term is informally used to refer to a region that includes the districts of Nilgiris, Coimbatore, Tirupur, Erode, Karur, Namakkal and Salem, as well as Oddanchatram and Vedasandur in Dindgul district, and Pappireddipatti in Dharmapuri district.
The name derives from Kongu Vellala Gounder, an OBC community with a significant presence in these districts.
The region includes prominent businesses and industrial hubs at Namakkal, Salem, Tirupur and Coimbatore.