Online Module For Compiling Out-Of-School Children's Data: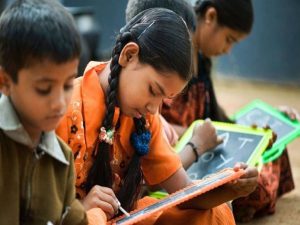 The Ministry of Education has developed an online module for compiling out-of-school (due to Covid-19 pandemic) children's data identified by each State/UT.
The collected data will be mapped with special training centers on the PRABANDH portal of Samagra Shiksha.
Key Points
Through the module, the government will facilitate age-appropriate admissions of children in the age group of 6-14 years and those belonging to socially and economically disadvantaged groups.
Also, for out-of-school children in the 16-18 years age group, financial assistance will be provided for the first time in the session 2021-22, to continue their education through open/distance learning mode.
PRABANDH (PRoject Appraisal, Budgeting, Achievements and Data Handling System) is a step towards leveraging technology to increase efficiency and manage the implementation of a centrally sponsored integrated scheme for schooling- Samagra Shiksha.
It is to have transparency and accuracy in the System w.r.t Approvals, Releases, Financial Status.
Also streamline the Financial Management System, to enable more accurate assessment of actual requirement of funds for implementation.
Samagra Shiksha is an integrated scheme for school education extending from pre-school to class XII to ensure inclusive and equitable quality education at all levels of school education.
It subsumes the three Schemes of Sarva Shiksha Abhiyan (SSA), Rashtriya Madhyamik Shiksha Abhiyan (RMSA) and Teacher Education (TE).
The main emphasis of the Scheme is on improving the quality of school education by focussing on the two T's – Teacher and Technology.