Johar: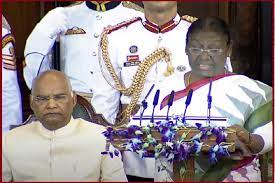 The 15th President of India, Droupadi Murmu, assumed office with a 'Johar' greeting to the country.
'Johar', which essentially means 'salutation and welcome', is used within the tribal communities of Jharkhand, and in parts of Chhattisgarh and Odisha.
According to several tribal leaders from Jharkhand, the word 'Johar' also means 'paying respect'.
Tribal communities are nature worshippers and follow Sarna religion code, although it is not an official religion.
There are 32 tribal communities in Jharkhand who speak different dialects. Almost all, including tribal Christians, use the word 'Johar' along with some other words for salutation.
Johar, is predominantly used by Santhali, Munda and Ho communities that share some similarities. People belonging to the Oraon community use the word 'Jai Dharam', apart from Johar, as a salutation.