India-Brazil-South Africa Forum: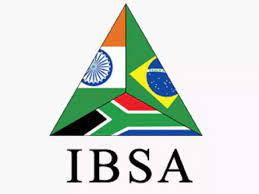 The trilateral India-Brazil-South Africa forum is likely to receive increased diplomatic focus, according to persons aware of the matter.
IBSA Forum is a Trilateral Dialogue Forum of India, Brazil and South Africa which was created in the year 2003.
The grouping was formalised under the name of the IBSA Dialogue Forum under the Brasilia Declaration.
Objective is Promoting ever closer coordination on global issues between the three large multicultural and multiracial democracies of Asia, South America and Africa, and contributing to enhancing trilateral India-Brazil-South Africa cooperation in sectoral areas.
IBSA Fund was established in 2004 which facilitates the execution of human development projects to advance the fight against poverty and hunger in developing countries.
It is managed by the UN Office for South-South Cooperation (UNOSSC).