What Is Public Private Partnership Model?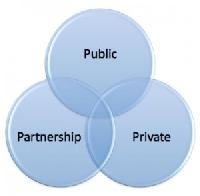 The railway ministry is planning to bid out 16 stations under the public-private partnership (PPP) model. These railway stations will be upgraded to ensure improved basic facilities and accessibility for passengers.
This is in addition to the 1253 railway stations that have been identified for development under the Adarsh Station Scheme.
Public Private Partnership Model:
It is an arrangement between the government and private sector for the provision of public assets and/or public services.
Public-private partnerships allow large-scale government projects, such as roads, bridges, or hospitals, to be completed with private funding.
In this type of partnership, investments are undertaken by the private sector entity, for a specified period of time.
As PPP involves full retention of responsibility by the government for providing the services, it doesn't amount to privatization.
There is a well-defined allocation of risk between the private sector and the public entity.
The private entity is chosen on the basis of open competitive bidding and receives performance-linked payments.
PPP route can be an alternative in developing countries where governments face various constraints on borrowing money for important projects.
It can also give required expertise in planning or executing large projects.