Landlord Port Model: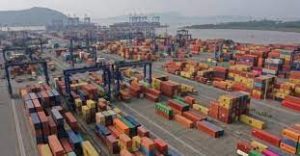 Jawaharlal Nehru Port (JNP) has become the first major 100% landlord port in India, having all berths being operated on the PPP model.
In this model, the publicly governed port authority (owner) acts as a regulatory body and as a landlord while private companies carry out all other port operations. In return, the landlord gets a share of the revenue from the private entity.
Previously, the government proposed to set up a major port at Vadhavan (India's 13th major port) near Dahanu in Maharashtra based on the landlord model.
JNP (Mumbai) is one of the leading container ports in the country and is ranked 26th among the top 100 global ports (as per Lloyds List Top 100 Ports 2021 Report).
JNPCT(Jawaharlal Nehru Port Trust) is presently handling 9000 TEUs capacity vessels and with the up-gradation, it can handle 12200 TEUs capacity vessels.
Currently, India has 12 major ports– Deendayal (erstwhile Kandla), Mumbai, JNPT, Mormugao, New Mangalore, Cochin, Chennai, Kamarajar (earlier Ennore), VO Chidambaranar, Visakhapatnam, Paradip and Kolkata (including Haldia).