S-400 Triumf long-range air defence system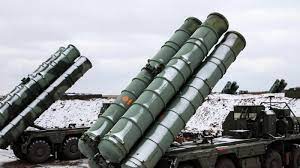 The S-400 Triumf long-range air defence system, currently being inducted by India, and remains a potent weapon for the neighbour, the Indian Air Force will counter it based on "direct tactical planning", an IAF representative informed the parliamentary standing committee on defence
In October 2018, India had signed a USD 5 billion deal with Russia to buy five units of the S-400 air defence missile systems,
It is a modern long-range surface-to-air missile (MLRSAM) system developed by Russia which will be delivered to India by 2025
Missile system integrates a multifunction radar, autonomous detection and targeting systems, anti- aircraft missile systems, launchers, and command and control centre.
It can provide a layered defence as it is capable of firing three types of missiles
S-400 Triumf can engage all types of aerial targets such as aircraft, ballistic and cruise missiles, unmanned aerial vehicles (UAV), which are within the range of 400km, at an altitude of up to 30km
The U.S. State Department spokesperson has said that there will be no "blanket" waiver for India, indicating that even if S-400 Triumf anti-aircraft missiles system deal is not sanctioned, other "significant" military and nuclear transactions between India and Russia could still trigger sanctions under the Countering America's Adversaries through Sanctions Act (CAATSA)
There has been unease in Washington ever since 2016 when India announced the deal with Russia, which remains New Delhi's biggest defence partner.
Now, the S-400 deal could attract sanctions under US' CAATSA law.The US has already sanctioned China and Turkey over similar purchases.
Countering America's Adversaries through Sanctions Act (CAATSA) 's core objective is to counter Iran, Russia and North Korea through punitive measures.
Enacted in 2017.
Includes sanctions against countries that engage in significant transactions with Russia's defence and intelligence sectors.