HAWK Air Defence Equipment: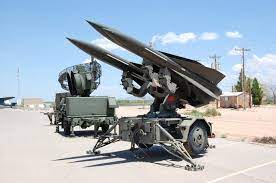 The United States is considering sending older HAWK air defence equipment from storage to Ukraine to help it defend against Russian drone and cruise missile attacks.
The HAWK interceptor missiles would be an upgrade to the Stinger missile systems a smaller, shorter-range air defence system – that the United States has already sent to blunt Russia's invasion.
HAWK :  'Homing All the Way Killer', entered service with the US Army in 1959, during the Vietnam war.
It underwent several upgrades, including a major one in 1971 that produced the so-called I-HAWK (or improved HAWK), with a kill probability of 85%.
The HAWK system was the predecessor to the PATRIOT missile defence system.
US forces largely stopped using HAWK from the early years of the new century.