Lancet Countdown On Health And Climate Change: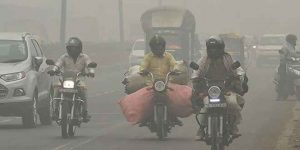 A report was released titled Lancet countdown on health and climate change: health at the mercy of fossil fuels, showing that from 2000-2004 to 2017-2021, heat-related deaths increased by 55% in India.
This report comes ahead of this year's United Nations climate change conference (COP27), to be held in Sharm El Sheikh, Egypt.
The report represents the work of 99 experts from 51 institutions, including the World Health Organization (WHO) and the World Meteorological Organization (WMO).
Findings of the Report:
Subsidies to fossil fuel consumption in many countries are causing global problems, including deterioration of air quality, decline in food output and increased risk of infectious disease linked to higher carbon emissions.
In 2021, 80% of the countries reviewed provided some form of fossil fuel subsidy, totaling USD 400 billion.
In 2019, India spent a net USD 34 billion on fossil fuel subsidies, accounting for 5% of total national health spending.
Over 3,30,000 people died in India in 2020 as a result of exposure to fossil fuel pollutants.
From 2012-2021, infants under one year old experienced an average of 72 million more person-days of heatwaves per year, compared to 1985-2005.
Adults over the age of 65 in India experienced 301 million more person-days during the same time period.
From 2000-2004 to 2017-2021, heat-related deaths increased by 55% in India.
In 2021, Indians lost 167.2 billion potential labour hours due to heat exposure with income losses equivalent to about 5.4% of national GDP.
From 1951-1960 to 2012-2021, the number of months suitable for dengue transmission by Aedes Aegypti rose by 1.69%, reaching 5.6 months each year.