India's Newest Mammal: White Cheeked Macaque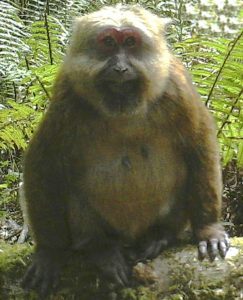 The Scientists from the Zoological Survey of India (ZSI) have found a new mammal species in the country — the White Cheeked Macaque (Macaca leucogenys).
While the species was first discovered in China in 2015, its existence was not known in India before this.
It is only now that Indian scientists have discovered its presence in the remote Anjaw district in central Arunachal Pradesh.
The latest discovery takes India's mammal count from 437 to 438.
The White Cheeked Macaque has distinct white cheeks, long and thick hair on the neck and a longer tail than other Macaque species.
It is the last mammal to have been discovered in Southeast Asia.
Both the Arunachal macaque as well as the White Cheeked Macaque exist in the same biodiversity hotspot in the eastern Himalayas.
Along with White-Cheeked Macaques and Arunachal Macaque (Macaca munzala) the other species of Macaques are Assamese Macaque (Macaca assamensis) and Rhesus Macaque (Macaca mulatta) reported from the same landscape.
The potential threat to all species of macaques in the landscape are due to hunting by locals for consumption and habitat degradation due to urbanisation and infrastructure development.
This species is not covered by the Wildlife Protection Act of India, because till now it is not known that the species existed in India.