Monlam Chenmo Festival : Ladakh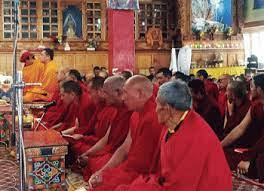 The annual five-day-long 'Monlam Chenmo' Festival, began recently in Ladakh.
Monlam Chenmo is an annual five-day-long Great Prayer Festival of Ladakh.
It is a mass prayer camp by Buddhist monks and nuns for world peace and happiness.
The annual Mass Prayer is resuming this year after three years of discontinuation due to Covid.
The event is being organised by the All Ladakh Gonpa Association.
It is a major annual prayer of the Sangha Community of Ladakh gathered at one platform.
The Festival falls on the 21st to 25th days of the third month of the Tibetan lunar calendar.
It is being held since 1991.