Women's Reservation Bill: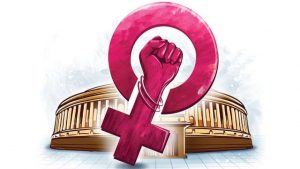 A political party has raised the demand of bringing the long-pending Women's Reservation Bill to Parliament, ahead of the monsoon session.
The Bill was introduced in the Rajya Sabha in May 2008 and was referred to a standing committee. In 2010, it was passed in the House and transmitted finally to the Lok Sabha. However, the Bill lapsed with the 15th Lok Sabha.
The original idea for this bill originated from a constitutional amendment which was passed back in 1993.
The constitutional amendment stated that a random one third of village council leader, or Sarpanch, positions in the gram panchayat should be reserved for women.
The Women's Reservation Bill was launched as a long term plan to extend this reservation to Lok Sabha and state legislative assemblies.
The bill seeks to reserve 33% seats in Lok Sabha and all state legislative assemblies for women.
Reserved seats may be allotted by rotation to different constituencies in the state or union territory.
Reservation of seats for women shall cease to exist 15 years after the commencement of this Amendment Act.