World Bee Day: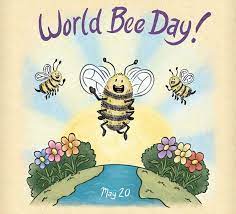 This year, World Bee Day is being celebrated under the theme – 'Bee Engaged: Celebrating the diversity of bees and beekeeping systems'.
World Bee Day is celebrated on May 20.
On this day Anton Janša, the pioneer of beekeeping, was born in 1734.
The purpose of the international day is to acknowledge the role of bees and other pollinators for the ecosystem.
The UN Member States approved Slovenia's proposal to proclaim 20 May as World Bee Day in December 2017.
Beekeeping in India:
The centrally funded scheme, 'National Beekeeping and Honey Mission' aims to establish 5 big regional and 100 small honey and other Bee Products testing laboratories, out of which 3 world class state-of-the-art laboratories have been setup.
The Government of India is also providing assistance for setting up of Processing Units.
More than 1.25 lakh metric tonnes of honey is being produced in the country, out of which more than 60 thousand metric tonnes of natural honey is exported.